woodCAD|CAM is a World Class, AutoCAD-based woodworking engineering and manufacturing software.
Engineer everything on ONE AutoCAD 3D Platform…EVERYTHING.
It's used in over 3,000 factories and accommodates 14 different languages. Over 50% of all wood products in Europe are engineered using woodCAD|CAM.
---
Interested in woodCAD|CAM, just fill out this form and we'll email you a brochure.
---
woodCAD|CAM
---
AutoCAD based technology, the industry standard. AutoCAD is not dependent on a complicated library loaded with large volumes of never ending formulas. AutoCAD is intuitive and significantly more productive leaving all other solutions way behind when it comes to creating "One-Offs".
THE SMART MANUFACTURING
SOFTWARE SOLUTION
---
Create 2D and 3D drawings that contain all the information needed for manufacturing. All the views are connected – change something in one view and the other views adjust (including edgebanding).
CUSTOM PRODUCTS / ONE-OFFS
---
woodCAD|CAM Is designed to handle the specific demands of each customer it serves. The data is customer-specific. The software provides an integrated data flow in operation from "first sketch to the machine." Manufacturing reports are available directly after creating the design. Design data is prepared for manufacturing. With full implementation, woodCAD|CAM greatly reduces costs, dramatically improves process reliability and increases profits.
Look beyond solid modeling. When you design with solids, you work hard to create the data needed for production. With woodCAD|CAM you interact with the sequel Database as you create the solid model of the product. The power of data management and solid modeling are combined to quickly generate error free parametric products.
INTELLIGENT PRODUCT DESIGN
---
Fully parametric library of pre-built products The creation of customer libraries is user defined, with the ability to apply standard and/or specific construction principles. As well as the ability to incorporate purchased items, hardware, & customer specific connector applications as needed.
CUSTOM PRODUCTS: ARTICLE DESIGNER
---
Uses contour shape extrusion into a shadow box to add parts, drawers, doors, buyouts, extrusions…all from scratch. Every article designed is parametric with no lengthy formula associations. Ideal for oddly shaped storage systems, store fixtures, reception desks, office furniture, enclosures, unique shipping containers (aerospace, etc.). Design visually and bring the hardware in at the same time – including machining.
CUSTOM PRODUCTS: OBJECT DESIGNER
Unique strategy deploying extrusion technology that allows the user to build radius articles. Before extrusion, selected materials are applied to a custom, sectional view.
Metallic extrusions embedded in panels YES.
Unique logos and artwork placed on flat panels YES
Joinery for studs and base plates enabling snap together assembly YES
Ease of reconfiguration based on field data YES.
Fully parametric YES
CUSTOM PRODUCTS: PART DESIGNER
---
You can build up nonparametric designs one part at a time and attach them to other parts using correct joinery selected by operator/designer. Develop 5 axis parts if your CNC equipment accommodates this geometry. Part Designer can add machining to parts while in 3D and also allows the user to change joint associations between parts while in development.
No fumbling around in a spreadsheet to achieve the unique results needed to complete simple variations of construction!
Part Designer can modify contours of parts or assemblies within the software. All of the heavy lifting calculations, CNC data, material/labor/work cell needs are done behind the scenes with ZERO use of formulas and spreadsheets. There is no dependency on a library full of spreadsheets that must be referred to as you develop new products. NO FORMULAS!
There are no limitations on what you can create and everything engineered in Article Designer & Object Designer is fully parametric!
---
Beyond all of the drawing capabilities of woodCAD|CAM there are extensive engineering and production abilities and a comprehensive selection of reports.
Parts and Material Structure
Detail definition for Part Characteristics
Intelligent Connections
Automated selection from supplier catalogue
Analysis of the connection situation
Design Supported Calculation
Cost transparency at all levels
Calculation of Total price
Material and its overhead cost
Manufacturing and its overhead cost
Individual Article Prices
Project Administration & Part Lists Report – Generator
Graphical and customizable BOM
Cut lists
Production Report
Purchased Report
Profile & Edges List
Coating & Surfaced Report
Labels & Barcodes
Part assembly list
woodCAD|CAM is perfect for creating:
---
Architectural Millwork • Commercial & Residential Casework • Fixtures, Display, Restaurant & Store • Kitchen Cabinets • Office & Residential Furniture • Storage Solutions • Closet & Garage
PHOTO REALISTIC RENDERINGS
---
woodCAD|CAM photo-realistic renderings are a powerful sales tool. The extensive catalog containing textures, lights and additional special rendering effects will help you create realistic renderings you can show your clients before production begins, eliminating costly late production corrections.
No need to create hardware specific machining, just download from our data website and get the 2D, 3D and machining data needed to deploy in your designs.
LINK TO THE CNC PRODUCTION
---
Detailed machining data can be derived from planning and design. Not only geometric data, but technology parameters as well as the sequential control are automatically generated. woodCAD|CAM focuses on the individual machine situations from fully automated industrial plants to economical CNC connections all are possible with woodCAD|CAM software.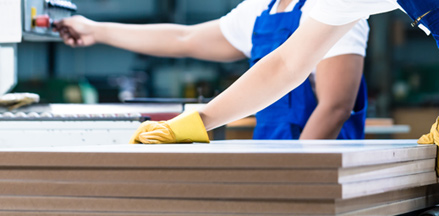 WOODCAD|CAM SYSTEM REQUIREMENTS
---
Workstation
Component

Requirement

Operating system
Win7 Pro SP1 64bit (must be Pro for proper networking)
Win10 Pro 64bit (must be Pro for proper networking)
AutoCad® Version
If NOT purchasing woodCAD|CAM OEM, you will need to provide a full version of AutoCAD.
For woodCAD|CAM v12 – AutoCAD1016
For woodCAD|CAM v2018 – AutoCAD2018

If purchasing woodCAD|CAM OEM, no version of ACAD 2016 or 2018 respectively (LT, Architectural, Design, etc) should be installed, as this will create conflicts upon installation.

SQL Version
SQL2014 (Default & Supplied with installation media)
Processor
Min Intel i3 7350K @420GHz [Preferred spec: i7 or better]
Main memory
16Gb ram [Preferred spec: 32Gb+]
Graphic cards
"Windows display adapter capable with True Color capabilities. DirectX 9 or DirectX 11 compliant"
Note on workstation graphics cards: Please refer to Autodesk recommended GPU specs and recommendations for ACAD2016 (woodCAD|CAM v12) and ACAD2018 (for woodCAD|CAM v2018), as well as compatibility with chosen CPU chipsets and monitor(s). There are many combinations and we simply cannot recommend a specific Graphics card. Please consult with your workstation vendor.
Screen resolution
min 1920×1080 Pixel (Full HD). Monitor(s) rely on the graphics card. Refer to the GPU specs when choosing display(s). [Preferred spec: 2+ monitors]
Storage capacity
6Gb free space required for installation. [Preferred spec: SSD (solid state drive) for hosting applications (1TB) & 1TB+ standard drive for storage]
Interfaces
2 free USB interfaces
Network card
min 100Mb/s. [Preferred spec: 1000Mb/s (routers, switches, and workstations must be compatible for throughput)]
Internet Access
Required for support, software downloads, and training.
Minimum stable upload speed 1Mb/s.
Minimum stable download speed 5Mb/s.
Server
Server must be on-site. We will not connect to an VPN or Cloud server. This type of connection is not secure and we cannot be liable for the client's extreme vulnerability.
Component

Requirement

Operating System
Windows Server 2012-R2 64bit (this is the only OS compatible with both versions of woodCAD|CAM)
SQL Version
SQL2014 (Default & Supplied with installation media)
Processor
(min 2GHz)
AMD Opteron
AMD Athlon 64
Intel Xeon with Intel ME64T support
Intel Core i7 with EM64T support
Main memory
Min 8Gb [Preferred spec: 16Gb]
Graphic cards
Min 64MB (the server will not be processing graphics)
Hard drives
SCSI/RAID Mirrored. 6Gb free space required for installation. Database and files should be allowed at least 20gb. [Preferred spec: 2Tb+(x2 mirrored)]
Interfaces
2 free USB interfaces
Network card
min 100Mb/s. [Preferred spec: 1000Mb/s (routers, switches, and workstations must be compatible for throughput)]