Production Coach Case Study:
Franklin Building Supply Keeping Track of Parts
when some of them are outsourced and need 3rd party processing
Franklin Building Supply was founded in 1976 in Boise, ID and has 17 locations throughout Idaho and Nevada. Franklin is a vertically oriented company, supplying building materials as well as owning and operating two truss plants, a custom door plant along with several design centers, where it designs and manufactures cabinets and offers a number of residential, interior finish products. Franklin processes about 70,000 wood parts per day.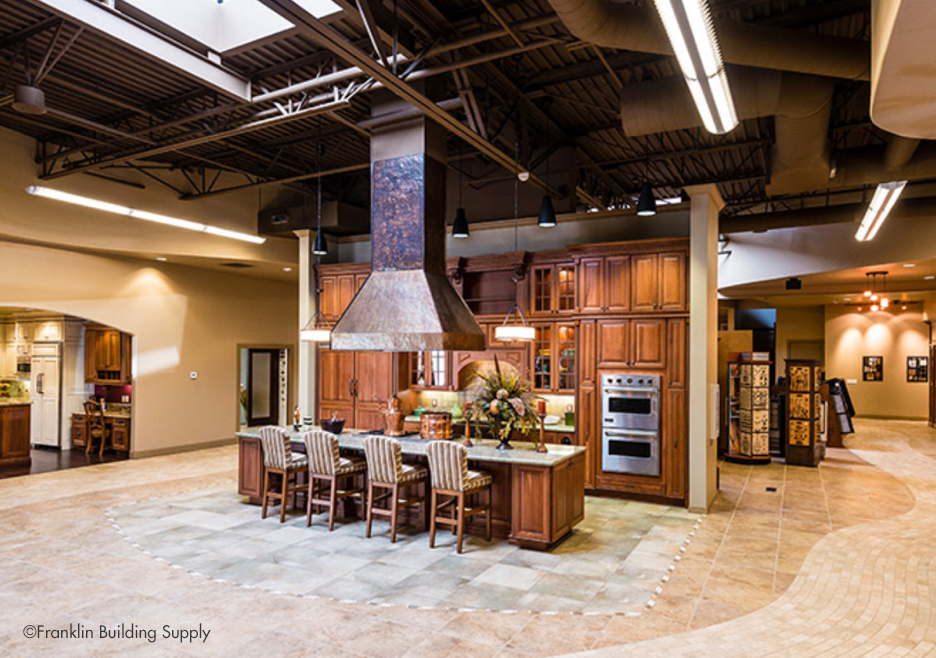 Franklin Building Supply was looking for something that would help them keep track of parts, not from a sorting perspective, but rather from a finished part perspective. Franklin's design business does a lot of panel processing and has a third party do all of the finishing of those parts in addition to doing the finishing on parts that they outsource.
Bryant Jones, General Manager of Franklin's Cabinet Divisions says, "We move lots of custom parts. We send them out of our facility into another facility, getting them finished and then having them brought back to us, while some outsourced parts are shipped to that same finisher and then brought back to us at the same time so that we can assemble and ship."
"We were struggling with getting all the parts that needed to be finished, along with the outsourced products that also needed to be finished, to our finishing vendor at the same time and then getting everything back here in time to go through final assembly. That struggle caused problems in our assembly process as well as out into our shipping process, where we prioritize an 'OTIF' (On time in Full Delivery) so that installation goes smoothly and customers are happy."
Franklin found that installers were extremely frustrated because they didn't have the completed products they needed to do their job and that missing parts was a problem that was creating chaos in their entire organization. They kept hiring extra people, trying – and failing – to manage the chaos, and so Jones and other managers were looking for something to help them. They were looking for a solution that would keep track of all the parts no matter where they originated or happened to be in the manufacturing process. Jones says they were looking for something that would tell them:
Did everything make it to our finishing vendor?
Did everything make it back, including outsourced parts like crown moulding and cabinet doors?
Was assembly completed?
Did everything make it on the truck?"
"No matter how many people we had working on this, we couldn't seem to get it right. This was extremely challenging, especially considering that we were growing really fast as a company."
Jones and Franklin Building Supply first heard about Production Coach at IWF Atlanta in 2016. They decided to try it out and so moved forward with integration in early 2017.
"Our focus on the initial install was that we just wanted to be able to have a list, scanning when we're shipping parts out and receiving parts in, and then for loading the truck and making sure that everything shipped when it was supposed to. Within a couple days, it was actually quite impressive."
Franklin was able to use its Cabinet Vision program to create the list and then use that same list in Production Coach on the front end. Jones says that, "It's had a huge effect on our ability to really manage all of our parts, all the way down to fast caps and shelf pins – and every item you can imagine – we have figured out how to get all of the parts we use on that list and itemize them as well. It's had a huge impact on our financial success and our team environment – now everyone knows what to do, when to do it and how to do it. Today, when you look at our system, it's a rarity that we don't ship a cabinet job in full."
Franklin has also seen a tremendous improvement in lead times. Before Production Coach was integrated, Jones says that, "We were running lead times that were eight ten twelve weeks out and then still struggling to have them complete." After Production Coach was installed, and Franklin experienced such great part-tracking success, they decided to onboard the Calendar feature in Production Coach. "We've been able to define capacity and say, here's the process and this is what everybody should be doing. Today, we've got three-week lead times that we can hit with no problem, even at a much higher production volume than when we first started with this software."
Jones says that Production Coach has not only improved OTIF and shortened lead times, but it's also allowed Franklin to downsize their production staff while increasing productivity by about 20%. "We were running up to two shifts and 16 hours a day," says Jones. "In the last 12 months, we've been able to shrink that down to eight hours a day and with 20 less people than we had before. And, we've done that while growing our business by over 20%."
Jones ends with, "The effects that integrating Production Coach have had on our organization, on lead times and on the overall picture… there's no way we could have done that without it. I mean it, Production Coach has had a really huge effect on our business."